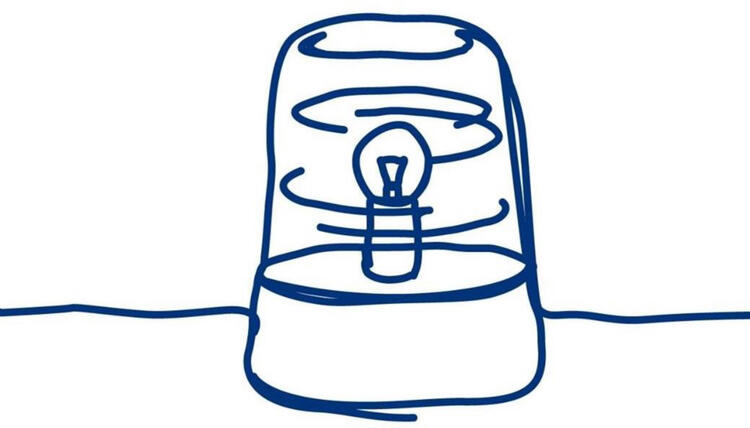 Blue Light Choir
"We are not a "professional" choir, we are just a group of ordinary people from across the Emergency Services who decided to get together each week because we know singing made us feel better and was a good way to unwind from some of the stresses and emotional baggage of our day to day jobs.
We ended up having a good laugh (often at ourselves), eating lots of cake, responding to requests to sing at various events, and over weeks and months colleagues became friends!
We sing for ourselves but we also sing to raise awareness, within the Emergency Services and the general public, of the need to take mental health seriously and the importance of looking after our own mental wellbeing. But, mostly because it is fun!
Whilst we do not charge a fee for performances, we are self-funded and any donations would be gratefully received".
Fiona Usher - Alto and TWFRS Chaplain
What We Do

We are led by Kate Sirs, an amazing Musical Director, who helps us sing to forget our worries.
The choir is available to sing at events and we do not charge but ask for a small donation if appropriate.
We have worked with some amazing charities including Fighting All Cancers Together (FACT), North East Charity Awards, Mind and National Emergency Services Memorial.
The Team
We are all employees of emergency services from across the North East (expanded to include friends and family) who enjoying singing to maintain positivity, mental health and wellbeing. We currently have around 30 members from fire, police, ambulance, NHS and a newly recruited prison officer.

We started our journey in August 2016 with "Fire Choir" and joined with other emergency services in May 2017 to become the Blue Light Choir as we are known today.

We are currently looking to further strengthen our team and introduce more Tenor and Bass voices. You don't need any experience however you must love singing, tea and cakes!

We practice every Thursday, please email if you would like to know more.
Our Song Book (so far!)
Africa
Amazing Grace
Count on Me
Everybody Hurts
Hallelujah
Hold Back the River
I'm Still Standing
Keep Believing (original)
Lifting Me Higher
Lion Sleeps Tonight
Ode to the Newborne (original)
One Call Away
Proud
Put a Little Love
Sound of Silence
This Is Me
True Colours
4 Chords

Christmas Collection
Away in a Manger
Carol Of The Bells
Fairytale of New York
Feed the World
Joy to the World
O Holy Night
Silent Night
Rocking Around the Christmas Tree
Twelve Days of Christmas
Preview Our Work
We have recorded a number of songs:
Fire Choir 'Fairytale of New York' - December 2016
Fire Choir 'True Colours' - February 2017
Blue Light Choir 'Ode to The Newborn' - September 2017
Blue Light Choir '12 Days of Christmas' - December 2017
Diary of Events
Upcoming Events
18 July 2019 - Sunderland Citizenship Ceremony
21 July 2019 - Northern Pride, Newcastle Civic Centre
6 September 2019 - National Emergency Services Memorial - St Giles Cathedral, Edinburgh
16 November 2019 - Army Benevolent Charity Fundraiser - HMS Calliope
21 November 2019 - Sunderland Citizenship Ceremony
3 December 2019 - TWFRS Disability Network Event - SHQ, Washington
10 December 2019 - Rotary Club Christmas Carols - Salvation Army, South Shields
18 December 2019 - Emergency Service Christmas Carol Service - Newcastle Cathedral
Performances to Date
23 June 2019 - Northumbria Police Open Day - Middle Engine Lane
21 March 2019 - Sunderland Citizenship Ceremony
16 May 2019 - Sound of Silence, TWFRS SHQ
2 March 2019 - Intu Eldon Square and Mind launch event - Intu Eldon Square
23 December 2018 - NE1 and The Botanist Christmas Song Book
17 December 2018 - Blue Light Christmas Carol Service - Newcastle Cathedral
1 December 2018 - Raby Arms Christmas Light Switch-on
23 September 2018 - Firefighters Open Mic - The Split Chimp, Newcastle
7 September 2018 - National Emergency Services Memorial - Manchester Cathedral
30 August 2018 - Christmas Showcase - The Botanist, Newcastle
21 July 2018 - Newcastle Pride Emergency Services Breakfast
12 July 2018 - The Tall Ships - Sunderland
29 April 2018 - Scott Handy Presents - Sage Gateshead
3 March 2018 - FACT Charity Ball - Hilton Gateshead
20 December 2017 - NE1 Presents - Grey's Monument, Newcastle
16 December 2017 - Salvation Army Christmas Lunch - Chester-Le-Street
11 December 2017 - Northumbria Police Christmas Carol Service - Hexham Abbey
24 September 2017 - Sunderland Pride Emergency Services Breakfast
28 September 2017 - North East Charity Awards - The Boiler House, Newcastle
22 July 2017 - Newcastle Pride Emergency Services Breakfast
26 May 2017 - Blue Light Presents - Sage Gateshead
4 January 2017 - Together Forever Memorial Concert - Custom House, South Shields
14 December 2016 - TWFRS Christmas Carol Service
Contact Us
For more information, to join or to make a booking please email using the link below.
bluelight.choir@twfire.gov.uk
Follow us and preview our work
Donations
Our self-funded choir will always welcome donations, no matter how big or small:
Blue Light Choir
Lloyds Bank
Account No: 36430268
Sort Code: 30-91-91
Please include a message so we know who to thank!